Nurses Email List
Healthcare Marketers' Nurses Mailing List- A Robust Database Of Nurses Worldwide.
You can now reach out to over 300,000 nurses across the globe and extend your services. The nurses form a crucial part of the healthcare industry and thus be a critical destination for your campaigns. One of the most competitive and significant sectors in the current global scenario is the Healthcare sector. You can now reach out to the most potential prospects and establish your business overseas with the help of our Nurse Email List. We cater to your needs and connect you with the Nursing Institutions, Healthcare centers, Directors of the Nursing Departments, and other nursing staff overseas.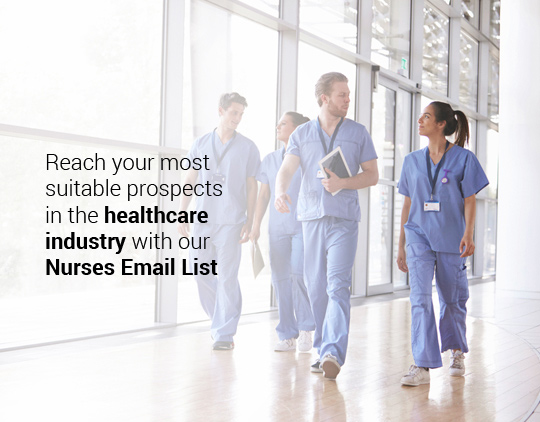 Additionally, the advancement in technology has placed a particular provision of Digital marketing, which can be made accessible for you through our Nurse Email Database. Yor monthly sales targets can be accomplished without extra expenditure as well as additional efforts. We equip you in all ways to withstand the intense competition in the industry and help you foster your markets and step ahead of the competitors.
Most Reliable, Customized Lists of Nurses Email Addresses.
With us, you can be assured that you will have an email campaign that competitors will envy. We collect our data from reliable sources and compile them into a single database. Our Nurses Email Lists is an ideal outreach tool that will help you capture your desired target audience as well as a market segment with ease.
With HealthCare Marketers Nurses Email Database, you can run your establishment, institute or network with millions of Nurses across various countries.
Our List of Top Selling Nurses Mailing Lists includes:
Gain Insights On Fostering Your Business By Leading Decision-makers Of The Healthcare Industry?
At HealthCare Marketers, we give you a comprehensive Nurses Email Address List that is well-tailored according to your needs. We enable multi-channel campaigning through Emails, Direct Mails, telephone calls, and even through fax. Have onboard the most influential decision-makers of the nursing niche and help develop your business and expand your markets. You can also strengthen your B2B networks and establish secure communication with the most desired business prospects.
Your services now have an opportunity to reach the ones who need them. Our Nurses Mailing List is the best resource for all the businessmen looking forward to conducting efficient marketing campaigns and establishing strong B2B connections within their niche and other related areas. We ensure your campaigns to reach the right audience, thus increasing the impact. Take a step ahead of the competitors, and start aiming top-notch medical practitioners to increase your sales. We also provide a provision for you to filter the Nurses Email Database under various categories like the job title, area of specialty, geographic location, department, license type, license number, licensure state, etc.
Our list contains data of nurses who are:
A Licensed Practical nurse (LPN), who undergoes nine months of course tenure and is able to practice and serve.
Registered Nurse (RN) who has attained a bachelor or certified degree after undergoing A vigorous 2 to the 4-year course.
Or nurses who took a Master of Science in Nursing (MSN) course to become a nurse practitioner or clinical specialist.
Benefits of using our Nurses Mailing Lists
Creates an efficient and effective communication channel for your brand
100% Safe and Reliable data
Activates an innovative email campaign
Generates a wider response from your campaign
Boosts your revenue and sales exponentially
Experience a higher ROI, with a vast and well-equipped Nurse Practitioners Email Database.
We assure satisfactorily high ROI for all your campaigns through our Nurse Email Database that are extracted from the most trusted and reliable sources. We have summits, national and international conference attendee lists, medical directories, nursing institute databases, hospital logs are few of our data sources. We then verify the data collected through mails and calls. Over a million calls are made per day to verify the information. The Nurse Practitioner Email Database is then authenticated by the concerned boards, making our database most secure.
We offer a significant provision of data appending services, which avoids data decay. All these functions are performed by professional teams that are employed exclusively for the purpose. Our lists have targeted the nurses and the concerned authorities of the nursing niche in the USA, UK, Australia, Canada, UAE, and many leading countries worldwide. H R companies, Physicians, Nurses, Pharmacists, Dentists, Medical Service providers, Medical equipment manufacturers, and many other concerned bodies can benefit sing our Certified Registered Nurse Email List.