Pave your way to Care with the Best Healthcare Marketers
Reach Your Community and Patients With a Brilliant Health Care Marketing Strategy!
The healthcare market stretches its wings a little further every day. New business opportunities are created, and medical marketers across the globe struggle to secure as many leads as they can. But you don't need to do that. Let us take the brunt of the work.
Healthcare Marketers provide you with Quality Healthcare Email List, which helps you bridge the communication gap between you and your target audience. We also give you access to the best leads worldwide, based on specialty, geography, and lifestyle data.
"As a promise of assurance, we are giving you a sample Healthcare Marketing Database free just to let you know what our quality standards are and how we maintain them."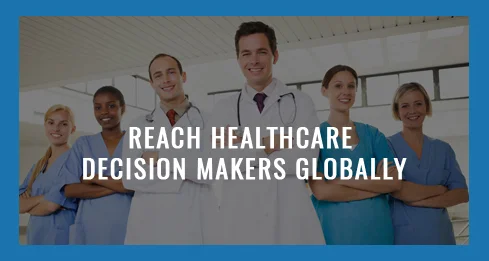 Request Free Healthcare Email list Samples
Boost Your ROI with Our Healthcare Email List Database
We are dedicated, a pioneer in offering the best healthcare email lists and healthcare database management services. Our Healthcare Email Lists are exclusively designed to provide you the shortest and yet effective route towards your overall business targets.
We deliver a comprehensive selection of high-quality Healthcare Mailing List on the market. As a result, you'll be able to effectively communicate with these leads at a lower cost, drive your ROI, and run successful Healthcare Email Marketing campaigns. All of which will help increase your brand visibility.
What Our Healthcare Database Intelligence Offers?
Creation and maintenance of Data structure
Accumulating information from various trusted data sources and undertaking data enhancement initiatives
Obtaining system analytics and instantly documenting the data
Linking the secure and functional data intelligence to the company's internal systems
Utilizing Data mining initiatives to create new ROI opportunities
Our Healthcare Contact Database Work to Improve your B2B Landscape
The application of Data Intelligence is crucial in expanding a company's operations and services. In today's dynamic market where innovation and adaptability are critical, data intelligence gives you an added advantage and saves you from the "hassle and tassel" of individual tracking. This makes business operations proceed faster and smoothly.
Data intelligence gives you in-depth insights to target your business calls and email pitches towards your relevant prospects. Therefore, it is of great help when making vital business decisions with regards to marketing & sales.
We have a wide range of Data products and services to fulfill all your requirements. Our healthcare email databases go through multiple procedures to make sure that only accurate information is sourced and processed.
Benefits of Our Healthcare Mailing Lists in Healthcare Business
Identify new leads and customize products or services accordingly
Have targeted medical marketing lists
Gain access to an in-depth database of healthcare email addresses with over 2 million counts
Gain proper and operational marketing insights to recoup lost revenue
Customized list comprising verified details of healthcare professionals with assistance
Give your sales team some detailed insights into the sales cycle and assess the required steps and stages of the cycle
Short delivery cycle with more than 75% to 80% campaign deliverables via multiple channels
Get a Quote for Customized Healthcare Email Lists
Accelerate Your Business Growth With Effective Healthcare Email Lists
Attract the healthcare practitioners and decision-makers with our healthcare marketing data solutions that include:

Email Appending
Reach your target market easily through Our Email Appending Solutions

Data Enrichment
Get our Data enrichment services to enhance your ROI in a short time

Phone Appending
Get benefited by our Phone Appending Services to make a fresh phone database

Fax Appending
Improve your marketing campaign success with our Fax appending services
Multichannel Marketing with our Exclusive Healthcare Email List
Every marketer is facing the challenge of outreaching to their targeted audience. This task has to be done effectively if you want to reel in clients. It is even more challenging for healthcare businesses because their mailing addresses tend to get discontinued every month.
Fortunately, this problem can be solved, and the communication process can also be made more accessible with our Health Care Databases. You will never find yourself stranded in the evolving B2B landscape.
The healthcare industry is one of the most critical sectors of the economy; thus, it is always advancing.
The demand for infrastructure, diagnostics & research equipment, medical equipment, pharmaceuticals, medical products, and surgical equipment is high to keep up with these rapid advancements.
Healthcare Marketers serve and give you access to Healthcare Executives Email List, including numerous suppliers, stakeholders, and marketers to help meet the ongoing demand.
FAQ's
Healthcare email list is a comprehensive mailing list of purchase decision makers in the trillion-dollar healthcare sector. It may be in the comprehensive pre-built format or in the customizable format for enhanced user experience.
It is important to buy healthcare mailing list as they are accurate, tele-verified and responsive. The competition in healthcare business communication is only going to increase with time. The only way to make your campaigns stand out is by sending b2b campaigns to a genuinely interested audience base.
Yes. It is indeed worth buying the healthcare mailing leads from HC marketers as there is a dedicated team of experts to compile the data and verify them to ensure that you get access to 100% accurate and 98% deliverable healthcare database.
The health care email list is integral to b2b campaign success as it is loaded with accurate data for brand building and revenue generation. The list has permission-based data to ensure that your campaigns land in the intended inboxes at the right time. At HC marketers we ensure accuracy, versatility and deliverability.
It is ideal to buy healthcare email list at the start of your campaigns.
Absolutely. HC Marketers is a pioneer in providing verified mailing list of key decision makers in the healthcare sector. Get the health care email lists and know its impact on your b2b campaigns.
Yes. The comprehensive, accurate, responsive and delivery-driven data bear testimony to the level of accuracy healthcare databases of HC marketers.
You may purchase healthcare mailing list with simple steps. You may choose the Request Quote option and browse through the healthcare database options. You may write in to us at info@hcmarketers.com. or call on 847-718-8181. You may also get access to a free sample before you go in for the purchase.