Our Healthcare Email List Database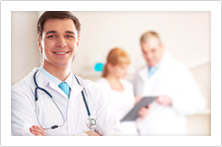 Healthcare Marketers is a pioneer in the field of healthcare email list and healthcare database management services. We have been catering innovative, segmented and customized healthcare email list databases for more than a decade, with a precision towards the individual needs of our clients. Our goal will always be to provide such healthcare email databases which can pave the shortest route towards your business targets. Our datasets are designed with such accuracy that they can combat even the steepest competition. With all the mentioned benefits, our datasets are affordable and immediate too.
Request Free Healthcare email list Samples
Benefits of Our Data Intelligence in Healthcare business
Our healthcare email lists contain data on physicians, dentists, dermatologists, oncologists, surgeons, therapists among others and is offered in exclusively customized formats for the benefit of clients. Benefits of our list of healthcare database provide:
Append the incomplete datasets into operational marketing insights
Identify new sales possibilities and include or customize products/services accordingly
Provide your sales team with a detailed insight of prospects life cycle
one can evaluate the necessary steps for every stage of sales cycle
With proper business insights, acquire the lost revenue
Targeted Medical Marketing Lists
Exhaustive database of healthcare email addresses with over 2 million counts
Short delivery cycle
Customized healthcare professionals lists with one-to-one assistance
Over 75%-80% campaign deliverables through multiple channels
Get a Quote for Customized Healthcare email Lists
Data Driven and Multichannel Marketing with our Healthcare Email List
Outreaching to your clients with targeted intervention is challenge for every marketer. The challenge aggravates even more as 30% of healthcare business mailing addresses might/will go cold/obsolete every month. Hence without proper assistance a marketer will be stranded in this ever evolving B2B landscape. To get rid of that problem and to simplify the process, our healthcare email lists will come extremely handy.
With so many rapid advancements in the medical field, every medical professional or institution is looking for new and advanced supplies. The supplies range from infrastructure, medical equipment, diagnostics and research equipment, surgical equipment, pharmaceuticals, medical products and much more.
In such a scenario there will be numerous suppliers and stakeholders, who can cater to the ongoing demand such as, medical marketers, CME providers, healthcare recruiters and so on. Hence, the Healthcare Marketers has been quintessentially designed to serve such entrepreneurs, marketers and suppliers.
"As an oath of assurance we offer a sample healthcare email list to let you be aware of the quality standards we maintain."
Our healthcare email lists can extensively help in the data driven marketing initiatives that every successful B2B marketing campaign is obliged to
Data intelligence is a must for B2B Business
In today's dynamic market data intelligence and its behavioral research can save you from the "hassle and tussle" of individual tracking. Data intelligence also provides you with the departmental and hierarchical segmentation. It gives you insights, for targeting your email pitches and business calls towards the relevant prospects.
Hence, the process involved in data intelligence helps immensely in taking crucial decisions with regard to marketing and sales. The data types which are utilized and gathered by the companies for data intelligence applications are Business performance, online analytics, data mining, and event processing.
Top Functional insights obtained through Data Intelligence
New ROI opportunities realized through a range of Data mining initiatives
Creation of Data structure, mapping relevant fields, performing data cleansing and undertaking data enhancement initiatives
Providing functional data intelligence to the companies in alignment to their internal systems
Creating inclusive datasets through accumulating information from various data sources
Obtaining system analytics, instant documentation and flexibility with data driven campaigns
Simplifying B2B landscape with Data intelligence
With the internal data maintenance, demanding serious technical prowess, because of the sheer volume, it's better to partner with a data services leader such as Healthcare Marketers. We have whole range of Data products and services to fulfill all your requirements.
To compliment that, our expertise and exact knowledge are the best in the industry. The best aspect of our database is that we have all permission based contacts, which saves our clients from all privacy and spam concerns. Our databases go through numerous procedures to become a comprehensive "Business Insights Juggernaut". Those procedures are,
Data Cleansing
Data Appending
Data Verification
List Building
Email List
Data Profiling
Phone Appending
Email Appending
Social Media Appending
Contacts Appending
FAQ's
Healthcare email list is a comprehensive mailing list of purchase decision makers in the trillion-dollar healthcare sector. It may be in the comprehensive pre-built format or in the customizable format for enhanced user experience.
It is important to buy healthcare mailing list as they are accurate, tele-verified and responsive. The competition in healthcare business communication is only going to increase with time. The only way to make your campaigns stand out is by sending b2b campaigns to a genuinely interested audience base.
Yes. It is indeed worth buying the healthcare mailing list from HC marketers as there is a dedicated team of experts to compile the data and verify them to ensure that you get access to 100% accurate and 98% deliverable healthcare database.
The healthcare email list is integral to b2b campaign success as it is loaded with accurate data for brand building and revenue generation. The list has permission-based data to ensure that your campaigns land in the intended inboxes at the right time. At HC marketers we ensure accuracy, versatility and deliverability.
It is ideal to buy healthcare email list at the start of your campaigns.
Absolutely. HC Marketers is a pioneer in providing verified mailing list of key decision makers in the healthcare sector. Get the healthcare email lists and know its impact on your b2b campaigns.
Yes. The comprehensive, accurate, responsive and delivery-driven data bear testimony to the level of accuracy healthcare databases of HC marketers.
You may purchase healthcare mailing list with simple steps. You may choose the Request Quote option and browse through the healthcare database options. You may write in to us at info@hcmarketers.com. or call on 847-718-8181. You may also get access to a free sample before you go in for the purchase.