Simplifying business communications with our Healthcare Email List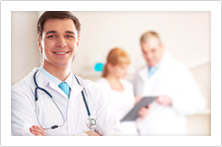 Communication is a serious challenge marketers need to encounter. With an average of 3% healthcare business mailing list addresses getting obsolete every month, marketers often find it challenging to engage with their targeted audiences without assistance. Our healthcare email list provides a simplified solution to communication.

There is visible gap in infrastructure, equipments and supplies, diagnostics and research services, pharmaceuticals and more, between what is required and what is available. Our medical email lists have been designed exclusively to help medical marketers, CME providers, healthcare recruiters among others to take their products and services to those who will value it and invest in it. At Healthcare Marketers therefore we offer clients the flexibility to try our sample healthcare mailing list database before purchasing, so they know what they are investing in.
Request Free Healthcare email list Samples
Reaping benefits with our Healthcare Email Lists
Our healthcare email lists contain data on physicians, dentists, dermatologists, oncologists, surgeons, therapists among others and is offered in exclusively customized formats for the benefit of clients. Benefits of our list of healthcare database provides:
Targeted Medical Marketing Lists
Exhaustive database of healthcare email addresses with over 2 million counts
Short delivery cycle
Customized healthcare professionals lists with one-to-one assistance
Over 75%-80% campaign deliverables through multiple channels
Get a Quote for Customized Healthcare email Lists